Hey there, kratom newbie! Diving straight into kratom powder might feel a tad adventurous, especially with that unique herbal zing. A cozy cup of kratom tea, though, is an absolute game-changer. Super chill and oh-so-delicious.
Kratom's got you covered with many choices – from zesty flavored powders and handy tablets to fun gummies and premium tea blends that'll make your taste buds dance. Keen on giving your wellness a boost? Kratom tea is the perfect intro.
So, grab your mug, and let's sip our way through this.
Why Choose Kratom Tea?
In recent years, kratom has surged in popularity due to its potential benefits. Kratom tea is an excellent choice for kratom beginners and seasoned kratom fans. It's easy to prepare using kratom tea bags and is available in many flavorful blends.
By choosing the right type of kratom tea, kratom lovers can enjoy a personalized experience with kratom tea.
Benefits of Kratom Tea
Convenience: Preparing and consuming kratom tea is simple and convenient, making it an easily integrated part of your routine.
Gentle Onset: Kratom tea offers a gradual onset of kratom's effects, ensuring a smoother experience than other kratom products.
Taste and Aroma: Infused with flavors, kratom tea masks the natural bitterness of kratom powder for more pleasant consumption.
Customizable Serving: Kratom tea allows precise control over the serving size, enabling you to find your ideal balance.
Flavored Kratom Tea Blends
At Super Speciosa, you can also find pre-made herbal tea blends enriched with flavorful, healthy ingredients. These blends are also a must-have for tea and herb lovers.
Wellness Benefits of Kratom Tea
Kratom Lemon Morning Tea Blend:
Shake off the morning haze with White Maeng Da kratom leaf and zesty lemon. This mix includes lemon peel, lemongrass, lemon verbena, and chamomile, each bringing potential benefits.
Lemon peel adds vitamin C and antioxidants, lemongrass aids digestion, lemon verbena promotes relaxation, and chamomile offers calming effects.
Boost your focus with this caffeine-free, energizing herbal tea enriched with White Borneo kratom leaf, rosehip, chamomile hibiscus, rooibos, and natural flavor.
These ingredients taste great together and provide benefits like increased alertness from White Borneo kratom, relaxation from rosehip and chamomile hibiscus, and soothing properties from rooibos.
Stay energized all day with our caffeine-free kratom-infused chai tea. It combines Green Bali kratom leaf, rooibos, chamomile, carob, cinnamon, cloves, cardamom, and orange peel, each with potential health benefits.
Green Bali kratom provides energy. Rooibos induces relaxation, chamomile brings calmness, carob supplies antioxidants, cinnamon aids digestion, cloves have anti-inflammatory properties, cardamom supports metabolism, and orange peel adds a zesty touch.
Enjoy a tranquil evening with this Red Bali kratom leaf blend. You will enjoy the taste and potential benefits of kratom tea, infused with flavors like turmeric root, ginger root, peppermint, cinnamon, Amalaki, oregano, rosemary, and black pepper.
These ingredients offer anti-inflammatory, digestion, blood sugar, antioxidant, immunity, and nutrient absorption support.
This caffeine-free tea combines delightful, relaxing ingredients like chamomile, lavender flower, and orange peel, which blend perfectly with Red Maeng Da kratom leaf to help you unwind for the night.
Super Speciosa Kratom Tea Bags
As you explore kratom's effects, you can discover strains that bring improved focus, relaxation, or energy, all crafted to match your wellness journey.
Super Speciosa's best-selling strains are available in kratom tea bags:
Green Maeng Da Kratom Tea Bags: An ideal choice for beginners and a staple for experienced fans. Packed with mood-lifting and focus-enhancing benefits, it is your all-day fuel!
Red Maeng Da Kratom Tea Bags: Perfect for unwinding, relieving stress, and promoting wellness after a long, tiring day to rejuvenate your body and invigorate your mind.
White Maeng Da Kratom Tea Bags: To sharpen your mind, elevate your spirits, and gear up to conquer the day ahead with 100% pure crushed kratom leaf.
Distinctive Benefits of Kratom Strains
Each kratom strain offers potential benefits that cater to your specific wellness routine and preferences.
Whether you're seeking enhanced focus, relaxation, or energy, choosing the appropriate strain can make all the difference in tailoring your kratom experience to your needs. Each variety of kratom has its set of characteristics, yielding unique effects.
Best Kratom Strains For Energy And Focus
Green and White vein kratom strains boost energy and productivity, like Green Maeng Da, Green Malay, Green Bali, White Maeng Da, and White Thai.
These strains are great for beginners and experienced users, offering enhanced focus and uplifting moods. This makes them an excellent option for boosting focus and productivity all day. Learn more about all Super Speciosa strains for energy.
Best Kratom Strains For Relaxation
Red vein kratom strains such as Red Maeng Da, Red Bali, and Red Borneo bring soothing calmness and deep relaxation. These strains are perfect for unwinding, relieving stress, and enhancing well-being. Learn more about all Super Speciosa strains for relaxation and sleep.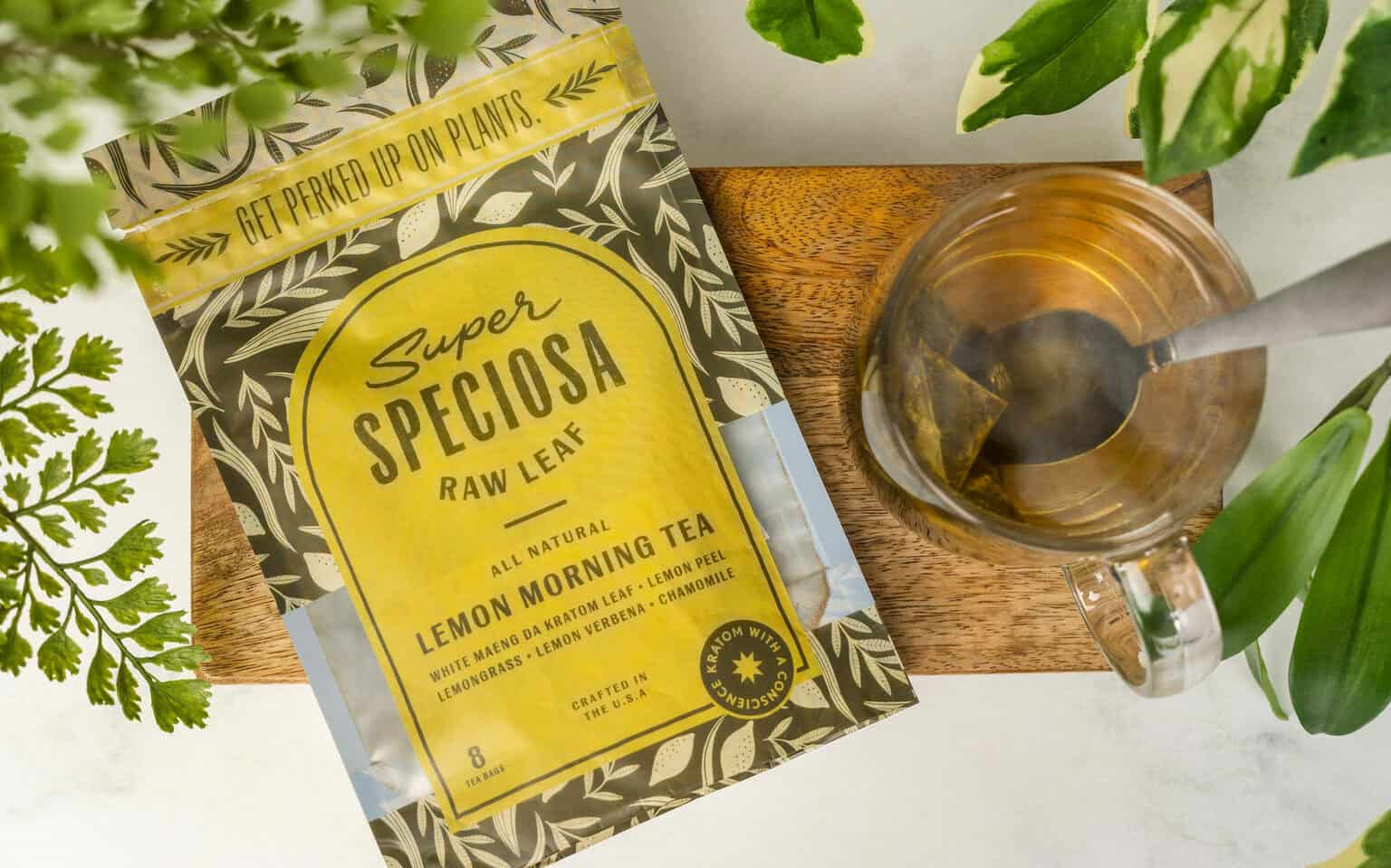 How To Make Kratom Tea
You can make kratom tea in two ways: using kratom powder or kratom tea bags.
Using Kratom Powder
The conventional way to make kratom tea is by using kratom powder. You can brew kratom tea with kratom powder, but the texture and flavor might not be smooth.
Here's how to do it: Mix the kratom powder with hot water and allow it to steep for 5-10 minutes. Once the tea is ready, strain the powder with a cheesecloth or a coffee filter to strain the powder. This step ensures that you have the finest kratom tea experience possible.
Using Kratom Tea Bags
Brewing kratom tea using kratom powder or loose-leaf teas can be messy, so kratom tea bags are the best choice for making kratom tea.
Here's how to do it: Like regular tea bags, you can put the kratom tea bag in a mug and pour hot water. Allow the tea bag to steep for 10 to 15 minutes until it reaches its typical amber hue.
Check out our previous blog on kratom tea with step-by-step instructions for some simple kratom recipes.
What Super Speciosa Customers Say About Kratom Tea
"This is a delicious product that makes an excellent morning tea with a little bit of honey. It does an excellent job of keeping me leveled off and relaxed. And the customer service is outstanding."
"I generally make my own tea from bulk powder from Speciosa, but when traveling, these tea bags are very convenient and tasty. I highly recommend all of the tea bags by Speciosa. I appreciate everything this company puts into its product line. I love the QR on every bag or product so I can view the COA. Many companies out there are NOT transparent and require you to request in writing the COA of their product."
"I absolutely love the Maeng da tea bags, and your delivery time is impeccable."
Kratom Tea Vs. Other Consumption Methods
Each kratom tea bag has 4 grams of crushed leaf. Super Speciosa suggests using 1-2 tea bags for brewing, which is the perfect place for beginners to start. We recommend drinking at most 2 cups within 24 hours.
Because kratom tea is generally milder than other kratom products, achieving a stronger effect might require a larger serving. For kratom powder, tablets, and capsules, around 2.4 grams often does the trick. On the other hand, you will need even less kratom extract derived from pure, concentrated mitragynine.
To see how kratom tea compares to other kratom products such as kratom capsules, gummies, or kratom extracts. Check out the pros and cons of kratom products.
Effects of Kratom
Kratom tea's effects kick in within 30-45 minutes after consumption. People have reported mood improvement, boosted energy, relaxation, and soothing effects, which depend on the strain type and serving size you choose.
Super Speciosa's Quality Promise And A+ Customer Service
In 2016, Ken and Aaron launched Super Speciosa, focusing on 'kratom with a conscience.' We're dedicated to providing safe and top-quality kratom.
All kratom at Super Speciosa is handled with extreme care. We've developed a unique manufacturing process just for kratom to ensure only the best for our customers.
Transparency is key for us. We share third-party lab results from Cora Science, which test for alkaloid levels, microbiology, and more. Plus, each product has a QR code linking to these results.
We're proud to follow the American Kratom Association's GMP Standards Program, ensuring the highest industry standards.
Have questions? Our customer service team is always ready to help. And remember, all our products come with a 30-day satisfaction guarantee.
Here's what our verified buyers say about us:
"Excellent quality powder and always reliable shipping. We couldn't be happier with you as our supplier. Keep up the good work!"
"I absolutely love yall's products and the amazing discounts and deals that I consistently get with you. I will definitely continue to recommend you to my friends and purchase your product for myself in the future."
"So glad I found you guys! Better quality and price by far than my local distributor. Quick shipping, too!"
Kratom Tea: Frequently Asked Questions
Where does kratom come from?
Kratom or ketum/biak-biak is a natural botanical called Mitragyna speciosa. The leaf kratom is available as a dietary supplement to enhance the mind and body. Natives of Southeast Asia in Malaysia, Myanmar, Indonesia, and Thailand have used this herbal supplement for centuries to fight physical and mental fatigue. Traditionally, Southeast Asian natives chewed kratom leaves or brewed to make kratom tea.
Different strains of kratom can have different alkaloid profiles. Generally, red vein kratom strains, such as Red Maeng Da and Red Borneo, are known for their relaxing effects. In contrast, green vein kratom and white vein kratom, such as Green Bali Kratom, Green Malay Kratom, and White Thai Kratom, are known for energizing and stimulating effects. Read why people love kratom!
What is kratom tea?
The kratom tree is a herb native to Southeast Asia and is scientifically known as Mitragyna speciosa. The leaves of this wild plant are harvested and brewed in the form of crushed kratom leaves. While kratom does not contain caffeine like coffee, it does possess active compounds such as Mitragynine that can produce energetic effects.
Kratom has a centuries-long use by Southeast Asian natives. Locals either chewed on the kratom leaves or brewed them to make kratom tea. Kratom helped them fight physical and mental fatigue after long hours of labor in tough working conditions.
Are kratom tea bags FDA Approved?
Unlike drugs, dietary supplements do not need the U.S. Food and Drug Administration's approval. Because kratom is no exception, kratom vendors can market kratom supplements to consumers. However, the concern for safety in terms of quality is valid.
We want to emphasize that all our products undergo strict quality control procedures to ensure our kratom is safe to consume. We follow the American Kratom Association's GMP Standards Program – a continuously improved quality standard for Dietary Supplements.
What are the potential benefits of kratom tea?
Kratom offers several potential benefits that can enhance your overall well-being. It has the potential to provide an energy boost, improve wellness, and induce deep relaxation. Many of our customers have shared positive experiences, from mood enhancement and increased energy levels to calming and soothing effects. Check out why people love kratom!
The potential health benefits of kratom may vary depending on the strain and serving size.
How should kratom tea be stored?
Kratom tea can be stored in the fridge for up to 5 days for best results. Learn the best ways to store your kratom.
What is the recommended serving size for kratom tea?
Each kratom tea contains 4 grams of crushed leaf. Super Speciosa recommends 1-2 tea bags when brewing kratom tea. We do not recommend drinking more than 2 cups within 24 hours.
Super Speciosa recommends all kratom consumers abide by the recommended serving size as directed on the label. It's best to start with a small serving size and observe the effects of kratom. Do they feel just right for your desired effects or milder? Make sure your body has taken the kratom well and has not caused any adverse effects. Read our in-depth guide on how much kratom powder you should take.
How often should I take kratom? We recommend not to take more than two serving sizes within 24 hours. Do not take a second serving if you are still feeling prior effects. Read our detailed take on the topic.
What is the legal status of kratom tea?
Kratom tea is not legal everywhere in the United States of America. Super Speciosa doesn't ship to any address where kratom is illegal. Check kratom legality in your state.
States where kratom is illegal: Alabama, Arkansas, Indiana, Rhode Island, Vermont, and Wisconsin.
Cities and counties where kratom is currently illegal: Sarasota County in Florida; Union County, MS; San Diego, CA; Jerseyville, IL; Oceanside, CA; and Ontario, OR.
The Drug Enforcement Administration (DEA) has not scheduled kratom at the federal level.
For the latest news on kratom legality, read our news section.
Can kratom tea help with relaxation?
Kratom can help with relaxation and overall wellness goals with its unique alkaloids in the kratom leaf.
Can kratom tea be consumed with other substances?
We strongly advise against drinking kratom tea combined with other substances.
Are there any potential side effects of kratom tea?
Super Speciosa urges everyone to use kratom safely and follow our product labels' recommended servings and precautions. Heavy use of kratom may lead to side effects such as nausea, drowsiness, constipation, itchiness, headache, frequent urination, or weight loss. If you have concerns about kratom safety, read our helpful guide.
Taking kratom in combination with other substances is also potentially dangerous. If you are on medication, consult a healthcare provider for medical advice. Kratom is also not suitable for women who are pregnant or breastfeeding. Do not use kratom for medical use, help with opioid withdrawal symptoms, or manage opioid addiction or cravings. FDA's recommended addiction treatment or mental health therapy are better options.