As the kratom plant gains in popularity, more kratom vendors are popping up in the market selling a variety of strains. Kratom is being sold everywhere from online vendors to gas stations, smoke shops, convenience stores, and even garage vendors. These "garage vendors" can be a cause for concern as you should only buy high-quality and rigorously lab-tested kratom products. If you are seeking optimal purity and potency, there are numerous advantages on why you should choose Super Speciosa's lab-tested kratom as your go-to kratom supplier.
Why Lab-tested Kratom is Important
Lab testing for kratom products is essential for several reasons:
To ensure consumer safety.
To comply with regulators.
To preserve access to kratom products and promote an ethical industry.
Dietary supplements as a whole are facing quality concerns, and kratom is no different. Quality issues have been pervasive in the kratom industry. These "bad actors" within the industry have led regulatory institutions such as the U.S. Food and Drug Administration (FDA) and Drug Enforcement Administration (DEA) to attempt to take actions restricting access to kratom.
Behind the Scenes of Kratom Production
Most kratom in the U.S. comes from Indonesia, the home of this tropical and evergreen tree also called Mitragyna speciosa. Approximately 15 to 25% of all kratom that comes into the United States fails microbial testing standards. A few known reasons for this include:
Quality control measures are almost non-existent in Indonesia where the kratom leaves are harvested by the villagers.
Kratom is a natural product exposed to all kinds of elements including bacteria, insects, birds, and animals.
Some processors mill the leaves of kratom in open facilities with chickens and other livestock.
Hygienic food handling practices and sanitation are not always observed leading to contamination with harmful bacteria like Salmonella and E. coli.
Kratom suppliers may poorly package the kratom powder, and kratom packages arrive with rips and tears and kratom powder leaking from the container.
About Super Speciosa's Kratom Production Process
Knowing these issues, Super Speciosa tests its kratom assuming we don't know who the supplier is. When Super Speciosa came into existence in 2016, our founders realized there was a big gap in consumer safety.
Envisioning 'kratom with a conscience', we started from scratch to design a heavily automated manufacturing process that minimizes human contact and ensures safety standards with complete transparency for the consumers.
Advantages of Choosing Super Speciosa's Lab-tested Kratom
Our rigorous lab-testing and product quality management has resulted in top-of-the-line kratom products. Here are some of the benefits Super Speciosa products offer in terms of kratom quality.
Optimal Purity and Potency: Super Speciosa tests the exact alkaloid profile via a third-party lab for optimal purity and potency. We do not alter the natural alkaloid content in any way.
High-Quality, Finely-Milled Products: All our kratom is finely milled and handled with care. No fillers or synthetics are used. This makes our pure kratom completely unaltered, untouched, and uncompromised.
Minimal Human Contact with Packaging: Our in-house packaging equipment and machinery is heavily automated to ensure minimum human contact. This results in high-quality kratom products for our customers, free of contaminants.
Small Batch Lab-testing: Super Speciosa tests small batches, unlike other vendors who may scoop one sample without blending the whole shipment. Batches that fail quality standards are rejected, disposed of, and will never be sold.
Superior Packaging Technology: Super Speciosa's in-house packaging technology weighs and heat seals individual pouches to maximize cleanliness and eliminate contamination.
QR Codes for Transparency: Each Super Speciosa kratom product is fully traceable to a specific batch and a corresponding set of lab tests that our Quality Control Team reviews before they can be approved for sale to our customers.
30-day Satisfaction Guarantee: We are so confident in the quality of our kratom products, that all our kratom comes with a money-back guarantee. If you have any issues or concerns about your purchase, contact customer service for a replacement or a refund. Customer satisfaction is very important to us!
Super Speciosa's Kratom Quality Control and Quality Assurance Process
Our pasteurizing process for kratom starts by using gentle heat – hot enough to kill bacteria, yet low enough to preserve the integrity of the alkaloids. Then, we batch and blend the kratom before taking a sample. Blending the kratom eliminates "hot spots" of bacteria common in big shipments. Blending allows us to get full coverage of the kratom product when samples are sent to a third party for lab testing.
These samples are taken from small batches of less than 250 kilograms and every single batch is tested. We do not rely on a statistical sample because, with our strategy, we get 100% coverage.
For microbiology testing, Super Speciosa follows the guidelines of the American Herbal Products Association. We also use the criteria set forth by the National Sanitation Foundation (NSF) for heavy metal testing. NSF is a leading organization recognized around the world for public health and safety, for dietary supplements to evaluate whether or not our kratom products meet quality standards. Batches that do not meet these two benchmarks are rejected, disposed of, and will never be sold.
Leading the charge in transparency and traceability, Super Speciosa gives full access to the certificate of analysis certificates (CoA) for the third-party laboratory tests performed on any specific batch. View a sample certificate of analysis.
Super Speciosa also uses Cora Science to perform heavy metals testing. They are ISO 17025 accredited and this can be verified on the PJLA website.
PJLA is a private third-party accreditation body based in the United States that validates the competency of testing and calibration laboratories, inspection bodies, reference material producers, and sampling organizations through the use of international and national standards.
Super Speciosa is a GMP-Certified Vendor
Super Speciosa is happy to be one of the first qualified vendors to achieve the GMP standards set forth by the AKA. These standards help us produce the best kratom in the market. This is one of the main advantages of choosing Super Speciosa's lab-tested kratom products.
The American Kratom Association (AKA) introduced its Kratom GMP Standards Program in early 2019. Among many other requirements, the program requires participants to qualify suppliers and document standard operating procedures, as well as implement testing procedures to protect against microorganisms of public health concern.
Red Flags in the Kratom Industry's Lab Testing
Unfortunately, there are a lot of bad actors in the kratom market who are neither reliably testing their kratom products nor complying with safety standards and manufacturing guidelines put forth by the AKA. Purchasing kratom products that could be adulterated is highly risky and could cause negative potential side effects. All kratom users should be on the lookout for the following red flags.
No Blending or Batching
Some kratom vendors have faulty sampling processes without considering that the kratom leaf is not necessarily blended before shipping.
For example, when a vendor receives a 1,000-kilogram shipment of kratom from Indonesia. The shipment is separated into 50 boxes, with each box containing 20 kilograms.
Thus, all boxes in a single shipment are not part of a uniform batch. It's possible that boxes within the same shipment were milled on different days. This means that boxes within the same shipment could contain kratom from one or multiple sources and exhibit varying levels of freshness.
The vendor takes one box, opens it up, and scoops several grams into a sampling container to send out for lab testing. This sample is therefore not representative of the entire 1000 kilograms.
Additionally, herbal powders typically contain "hot spots" of bacteria. So, without blending, a sample from a clean spot may pass lab testing, whereas a sample taken from a *hot spot* within the same box would result in a failed test.
Fake Lab Certificates
​​Unfortunately, there are kratom brands in the marketplace that claim to test their products when in reality they do not because their lab certificates are reported to be counterfeited and forged.
To stay vigilant, make sure the lab certificate displays the company letterhead and clear notation of their full contact information, including address and phone number. Make sure the batch number on the lab report matches the batch number on the product, as well.
Some kratom vendors even make false potency claims. For example, there have been fraudulent lab reports posted online that indicate 2.5% mitragynine content. This is highly unlikely as all of our testing data indicates a range of 0.5% to 2.0% mitragynine, which is consistent with published research.
No Transparency
A telltale sign of an untested kratom product is having no batch number. No batch number or lot number on the product means there is no traceability to the test results.
Every kratom product you buy should have designated batch or lot numbers. Also, lab certificates should have a batch number or lot number associated with the kratom product that is listed on the lab certificate.
For instance, if you read a lab certificate and the sample was submitted as "Green Borneo" without an associated batch number or lot number, you can assume that the vendor is not keeping track of which batch of "Green Borneo" the test was done for.
Only Testing for One Contaminant
Several vendors, after the reports from the FDA in 2018 of Salmonella contamination, began posting test certificates for Salmonella only. But lab certificates for microbial testing should include a full panel of tests, not just Salmonella.
Kratom leaf commonly fails testing for Salmonella, E. coli, coliforms, yeast, and mold. So, all of these microbes should be tested for. If a vendor is only doing one, they are not taking all of the proper steps to ensure a safe product. This poses a greater risk for impurities within the kratom product.
Garage Vendors
There are many small distributors in the United States operating out of their garages, homes, or apartments without properly handling or testing for contamination.
Without a proper facility and equipment, it's impossible to properly handle, test, and manufacture kratom products. These types of vendors will commonly use the "not for consumption" labeling to skirt their responsibilities to consumers
Scooping the kratom from boxes, placing the powder into smaller pouches, and then distributing it to customers without doing any quality checks for contamination places the consumers at serious risk.
Where to Buy Kratom Online
Although there are many AKA-certified kratom brands such as Kats Botanicals, Golden Monk, Kratom Spot, and Happy Go Leafy, Super Speciosa is one of the best kratom vendors to purchase kratom online. We've helped over 500,000 customers and have thousands of positive reviews. Just take a look at some of our positive customer reviews: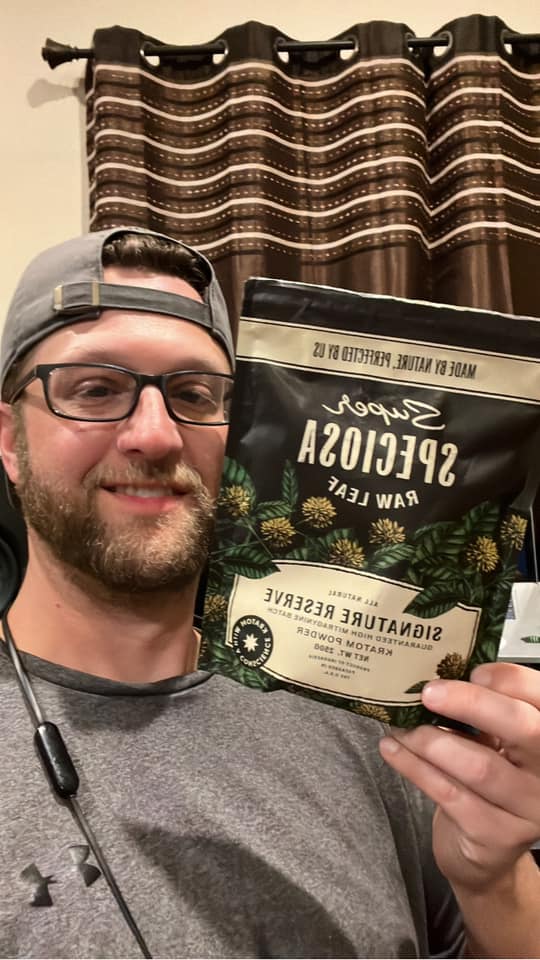 "Best Kratom I have tried in the last 4 years and I have tried MULTIPLE brands."
"Super just like the name!! Tried many different types and none compete with this!! Worth the money no doubt!!"
"I've been using kratom for almost 10 years and an issue I've had is finding consistency in quality. I never got that until I found super speciosa. You get consistently strong products. Me and my roommate buy and although we get different strains, they're always good. Pricing is fair and there are discounts and reward programs. Definitely check these guys out."
Premium Kratom Products Super Speciosa Offers
Discover the advantages of choosing Super Speciosa's lab-tested kratom products today! Super Speciosa is a high-quality premium kratom vendor offering the most popular varieties of kratom in the market, such as Red Maeng Da, Green Maeng Da, White Maeng Da, Red Bali Kratom, Green Bali Kratom, Green Malay, White Thai, and Red Borneo. These strains are available in various types of kratom products:
Kratom Capsules: Tasteless capsules, each containing 600 milligrams of kratom powder.
Kratom Powder: Ground Mitragyna speciosa leaves, versatile in consumption and popular among all kratom users.
Kratom Tablets: Pressed kratom powder tablets, made for extra convenience and on-the-go use.
Kratom Gummies: Tasty gummies infused with Mitragynine for a delightful treat.
Flavored Kratom Powder: Flavorful kratom powder options, made for a bitter-free taste.
Kratom Tea & Blends: Crushed kratom leaf that come in individual pouches, with some varieties including other herbs such as chamomile to enhance the kratom experience.
Effects of Kratom
The desired effects of kratom can be felt within 15 minutes of consumption and take about 45 minutes to completely kick in. Users have reported that kratom's effects range from mood-lifting and increased energy levels, to relaxing and soothing, depending on different strains and serving sizes.
Red vein kratom is generally known for its calming effects, whereas green vein kratom and white vein kratom are known for their stimulating benefits of kratom including an energy boost, mental clarity, improved wellness, and general well-being. These effects are a result of kratom's unique alkaloids.
Super Speciosa promotes the safe use of kratom. Our kratom products are only intended to be dietary supplements and should be used as directed on the label. Heavy use of kratom may lead to potential side effects of kratom such as nausea, constipation, headaches, drowsiness, etc.
Frequently Asked Questions
What is lab-tested kratom and why is it important?
Lab-tested kratom means it is unaltered, untouched, and uncompromised. Lab-tested kratom is tested by a third party for a full panel of microbials, heavy metals, and alkaloids. Lab-tested kratom is important because consumer safety is one of the biggest concerns, along with complying with regulators and preserving access to kratom products. This is one of the main advantages of choosing Super Speciosa's lab-tested kratom products.
What types of contaminants can be found in kratom?
Super Speciosa lab tests comprehensively for contaminants that can be found in kratom such as harmful bacteria like Salmonella and E. coli, high levels of coliforms, yeast and mold, or heavy metals such as Arsenic, Cadmium, Lead, and Mercury. 
How does Super Speciosa's third-party lab testing process work?
Super Speciosa uses Cora Science, a third-party ISO 17025 accredited lab, for all testing including alkaloids, microbiology, and heavy metals. We also follow the criteria set by the National Sanitation Foundation to meet the quality standard of dietary supplements along with the American Kratom Association's Good Manufacturing Practices.  
How does Super Speciosa package its products to minimize human contact?
Super Speciosa's packaging facility is designed with heavily automated equipment and machinery to minimize human contact.
Where does kratom come from?
Kratom is native to Southeast Asia, particularly Indonesia, Thailand, and Myanmar. Nearly all of the kratom products imported to the U.S. come from the West Kalimantan region of Indonesia.
How long does it take to ship my kratom?
Super Speciosa offers fast shipping on all our products. Orders that come in before 2 p.m. est are shipped the same day (excluding Sundays and postal holidays). We offer a variety of shipping methods to suit your needs.
What is the return policy if I am not satisfied with my purchase?
Super Speciosa offers only the best kratom products with the highest quality kratom including a  30-day money-back guarantee on each purchase and everything we can do to ensure your kratom experience is satisfactory with us.
How can I ensure that I am getting the correct kratom serving size?
To calculate the Mitragynine content in your serving, check out our easy-to-understand serving size guide.